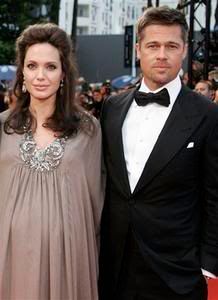 This is my favorite Hollywood Couple because, they have done so much stuff for my city,New Orleans, with the rebuilding effort. If I ever get a chance to meet them I will give them all the accolades because, they truly deserve it. I admire them because, they adopt children from the poorest of countries and, take care of them and not only that ;They use there money and valuable time to not just give back to my community but, communities and places all over the world. They definitely believe in the motto "It is better to give than to receive" they're definitely doing positive things and, putting all good karma in the world but, before I forget.
Congratulations on your new bundles of joy: A boy, Knox Leon .a little over 5 lbs, and girl Vivienne Marcheline 5 lbs even. She had the twins Satuday July 12th, 2008 around 8pm. The twins were also delivered via C-Section and, you already know the first pics of the twins will proably go for around
MILLIONS OF DOLLARS
but, when Angelina had daughter Shiloh ,in 2006, she gave half of the money to
CHARITY
so she is not
MONEY HUNGRY
like the rest of Hollywood who basically
PIMP THERE CHILDREN'S BABY PICS.